Baby Shower

---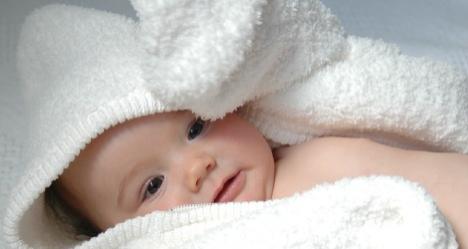 Customarily given four to six weeks before or after baby's arrival, showers provide friends and family a chance to deluge the mom-to-be with the tools of her new trade. Lately, it's not uncommon to find men at such gatherings, and showers for expectant couples are becoming more popular. Whatever the setting or the guest list, the purpose remains the same—to shower the expecting with gifts for the expected.
The Family Circle. Compile a memory book with pictures of parents, brothers, sisters, and other of the baby's relatives.
It Takes a Village. Contribute to the purchase of such major baby gear as a crib, bassinet, cradle, high chair, stroller, booster seat, car seat, battery-operated swing, changing table, jogging stroller, portable crib, infant carrier, or portable play yard.
Make Room for Baby. Give nursery equipment or furnishings: an ultrasonic humidifier, a nursery monitor, an electronic thermometer, a mobile, wall hangings, crib bumpers, blankets, quilts, a crib mirror, a nursery clock, or closet organizers.
Rubber Ducky. Assemble bath-time items in a baby bathtub. Wrap the filled tub with a large sheet of cellophane, tie it with a colorful bow, and top it with an adorable rubber duck.
On the Go. Equip a diaper bag with gear for outings: a car bottle warmer, a portable changing pad, disposable diapers, baby wipes, baby toys, rattles, and teething rings.
It's a Keeper. Give a silver rattle, spoon, porringer, mirror, or another keepsake engraved with the baby's initials and the date of her birth, blessing, christening, or other first rite.
A Proper Pedigree. Create and frame a family tree or pedigree chart.
Front Page News. Laminate the front page of the newspaper from the day the baby was born.
New Traditions. Make an heirloom-quality quilt, christening dress, or petticoat. Embroider the baby's name and birth date (or christening date) on the item and offer to embroider the same information for each successive recipient. (Granted, you will not likely be around to do this for more than a generation or two, but it's a polite way to suggest the tradition be maintained.)
A Place for Everything. Decorate an oval basket with scraps of fabric and lace to resemble a baby bassinet. Fill the basket with nursery supplies.
Motherly Love
. A care package for Mom is a welcome change from the traditional baby shower gifts. Bubble bath, candy bars, good books, and a few coupons for baby-sitting would bring a smile to a tired new mother's face.


SEE MORE GIFT IDEAS AT
Gifts for Baby