Gift Certificates

---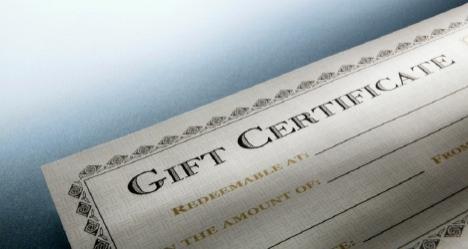 Gift Certificates
Some gift givers maintain that giving gift certificates ensures the recipient will get exactly what he wants. Some gift recipients maintain that giving gift certificates is an easy way out on the part of the giver. Like everything else, the success of giving gift certificates seems to depend on the circumstances.
Most businesses and service providers offer gift certificates. Treat someone to his or her favorite dining, recreational, shopping, or educational experience, or introduce a friend to a new restaurant, store, or amusement. Gift certificates are available for the following:
Dinner at her favorite restaurant

A hair styling, manicure, pedicure, or facial at a salon

A color consultation or wardrobe analysis

Art, music, dance, or voice lessons

Tennis, karate, or swim lessons

Long-distance phone calls

Movie tickets and concessions

A pair of tickets to a sporting event, a concert, or the theater

An all-expenses-paid weekend getaway, vacation, or honeymoon

A tuition-paid adult education class

A tree, shrub, or lawn ornament from a garden center

A hot-air balloon ride

Car detailing

A massage

Catering service or party planning

Limousine service

House cleaning or yard care

Membership at a pool, spa, gym, or country club
Purchasing holiday gift certificates from the recipient's favorite department store, specialty shop, or internet site allows him to take advantage of after-holiday sales.
Books of discount coupons, such as those sold for school fundraisers, are fun gifts for people that like to shop, travel, or dine out.
Make your own gift certificates for food treats or services such as car maintenance, lawn care, or baby/child/pet sitting (see Gifts of Self).
Why not give a homemade dessert-of-the-month gift certificate. Compose a verse to convey your intentions to bring a dessert each month and present the certificate with the first month's dessert. Throughout the year (or other specified term), deliver a homemade dessert—your choice or the recipient's—each month. Don't be surprised if they want to come back for seconds next year.